"I really enjoyed the course, I'll definitely apply what I learned."

"Tattersall Training keeps customer service at the top of their agenda."

C40 Cities Climate Management Group

"Excellent trainer, very knowledgeable and involved the whole group."

"They put our needs at the heart of how they design and deliver interventions."

"I found them to be innovative, professional and of tremendous support."

"I've recommended them to every organisation I come into contact with."

"They always give us above and beyond what we expect."

"Excellent, more than met my expectations"

"I know my clients get great ROI from Tattersall Training."

"They demonstrate an unwavering commitment to learners."

"Excellent - very enjoyable and informative workshop."

"Your customer service training is second to none – and I know."

Royal Borough of Greenwich

"I've always enjoyed working with them . . . absolutely fantastic."
learning & development services

Meet Peter
Peter Tattersall is the Managing Director of Tattersall Training.
Peter has provided world-class learning and development events for his customers for over 25 years. His award winning team of Learning & Development Practitioners, Coaches and Professional Actors have received outstanding endorsements from a wide spectrum of organisations. These span the public, private and voluntary sectors.
He began as a freelance trainer and rapidly developed a reputation as an excellent provider. Consequently he was offered more work than he could handle alone and needed others to join him. He was able to attract a very high standard of practitioners who were keen work with him. In recent years several of them joined because they were already known and loved by our customers who gave them glowing reports.
Peter likes to say YES to his customers. So whenever they've asked him if he could provide something – he of course said YES. He then found someone brilliant to deliver this and brought them into his team. Several team members have now been recognised by The WOW! Awards for delivering outstanding service and have been presented with a very special award on-stage at the Annual Gala Ceremony each year for the past 6 years.

Meet Helen
Helen Cook is the Customer Support Manager at Tattersall Training.
When Helen joined the team in 2008 she really lifted the administrative experience for our customers to a very high level. She is a people person who is adored by customers and team members alike for her friendship, compassion and calm efficiency.
Helen is excellent at exceeding the expectations of our customers. In many of our contracts we are required to meet service level agreements – doing things in a certain time to a certain standard. So it's no surprise that she has delighted them by being very fast and efficient – a track record we are very proud of.
She has also responded successfully to demands from customers to produce detailed delivery programmes at very short notice. This has happened several times over the years. Her calmness and ability to get things done under extreme pressure has been a big WOW! factor for our customers.
She holds a BA in Business Studies (2.1) and previously worked for a number of blue chip companies including Price Waterhouse Coopers, Merrill Lynch, Nortel Networks and The Times Educational Supplement.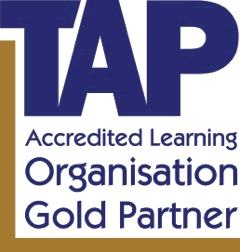 We improve productivity by training your people to the highest professional standards.

Every course is skilfully designed using The Training Foundation TAP® methodology and delivered by our TAP® Certified training team.

You can be confident that by the end of your course they'll be inspired and motivated, and have the skills to be more productive – because we can prove it.
――
Buy1Give1 Business Member
――